A woman crossing the street in southeast Bakersfield was tragically killed in an accident involving a pickup truck Tuesday evening. KGET-TV reported the accident happened sometime before 6:48 p.m. on February 7th, 2023.
The California Highway Patrol responded to the scene in the northbound lanes of South Union Avenue at the intersection of Adams Street near the Kern County Fairgrounds. Investigators say that the driver of a Dodge Ram pickup traveling north struck the woman as she crossed the road.
The victim was 35 years old. She was pronounced dead at the scene. Her identity had not been released as of the last update.
The driver of the pickup, a 26-year-old man, pulled over and remained on the scene to cooperate with the investigation. The California Highway Patrol does not believe drugs or alcohol were involved in causing the crash. They continue to investigate the circumstances that led up to the accident.
Maison Law of Bakersfield posted details about the tragic incident and about the liability for drivers in pedestrian collisions.
Pedestrian Accident Dangers in Southern Bakersfield
Bakersfield is consistently named one of the most dangerous places for pedestrians each year. It also commonly ranks as one of the worst places for those on foot in the nation when considering its population size.
Smart Growth America's 2022 "Deadly By Design" pedestrian research showed that when accounting for population, Bakersfield was the seventh least safe city for pedestrians in all of the U.S.
In 2021, transportation officials recorded 120 pedestrian accidents involving injuries in Bakersfield. At least 22 lives were claimed in these tragic incidents.
The city should provide more crosswalks and repaint faded crosswalk lines. But a significant drop in yearly pedestrian accident rates will only come with local drivers deciding to stop looking at their phones, slow down, and give more care to the pedestrians who walk and run Bakersfield each day.
What Families Can Do After a Fatal Bakersfield Pedestrian Accident
The families of pedestrian victims are encouraged to stay informed of every benefit available to them after a terrible accident. Close relatives can file a wrongful death claim to earn important financial support to protect those left behind in the years ahead. A Bakersfield Pedestrian Accident Lawyer will discuss your case with you in a free consultation. This case review is confidential and comes with no obligation to you or your family.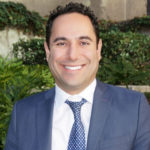 Martin Gasparian is the founder of Maison Law, a California Personal Injury Law Firm. Martin is a graduate of Georgetown University Law School and has been practicing law in California 2004. His practice focuses on helping injury victims know their rights and recover just compensation.