Bakersfield Police continue to search for a hit-and-run suspect who claimed a woman's life in a weekend pedestrian crash. Officers were called to the scene along Union Avenue near East 5th Street at around 9:45 p.m. on August 20, 2022.
KGET-TV reported that a woman was found in the street with serious injuries. She was later pronounced dead on the scene.
Investigators say the driver involved fled the scene. The only description that officers could release at the time was that the driver was in a dark sedan.
The hit-and-run accident remains an active investigation. Officers want anyone with information about what happened to call the Bakersfield Police Department.
Bakersfield Pedestrian Hit-And-Run Accident Dangers
Bakersfield is a dangerous place for those on foot and the truth can be seen when examining last year's pedestrian accident numbers and when looking at figures from across a decade in our city.
California transportation experts documented 113 pedestrian accidents involving injury in Bakersfield in 2021. 14 victims from those accidents tragically lost their lives. 38 of those pedestrian accidents involved a hit-and-run driver.
A study of Bakersfield and Fresno collision numbers found that Bakersfield ranked as the 2nd most dangerous city in America for pedestrian accidents when accounting for population. Bakersfield also recorded 260 pedestrian deaths on its streets over a 10-year span.
It's more than obvious that Bakersfield leaders need to recommit to keeping walkers and runners safer across the city. It's also critical that drivers start taking pedestrian safety more seriously. Even a bit more attention paid to crosswalks and sidewalks could prevent dozens of devastating pedestrian crashes a year.
What To Do After a Loved One Is Lost in a Bakersfield Pedestrian Accident
The families of pedestrian victims are encouraged to stay informed of every benefit available to them after a terrible accident. A Bakersfield Pedestrian Accident Lawyer will discuss your case in a free consultation. This case review is confidential and comes with no obligation to you or your family. Make sure you don't forfeit your rights to seek fair financial support from a careless driver's insurance company.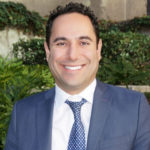 Martin Gasparian is the founder of Maison Law, a California Personal Injury Law Firm. Martin is a graduate of Georgetown University Law School and has been practicing law in California 2004. His practice focuses on helping injury victims know their rights and recover just compensation.