A frightening impact between cars left one vehicle in the front yard of a Fresno home and sent two people to the hospital.
Fresno Police say the accident occurred in the intersection of Tulare Street and Chestnut Avenue where the power to the traffic lights had gone out. KSEE-TV reports the accident occurred shortly before 9 p.m. on November 1, 2022. The PG&E power company had reported outages throughout the day on Tuesday.
Fresno police investigators believe that two vehicles entering the darkened intersection failed to make a complete stop. The two vehicles collided in the intersection and one vehicle was sent into the yard of a nearby home.
Two victims in one of the vehicles were hurt and rushed to the hospital. The occupants of the other vehicle weren't hurt. Police haven't yet determined who was at fault in the accident and continue to investigate.
Maison Law had more information on this accident and information on how to handle insurance claims here.
Power Outage Intersection Accident Dangers in Fresno
A loss of power to traffic lights in a Fresno intersection can create chaos among drivers who may not know how to react.
In fact, there are clear guidelines as to what to do when the power to traffic lights fails. Caltrans confirms that a darkened intersection or an intersection with flashing red lights should be treated as an all-way stop.
Drivers should slow down and act as if there's a stop sign at every entry point to an intersection. Cars would proceed as they do at a four-way stop sign intersection. When motorists become reckless and ignore these rules, they can be held liable for any accidents and injuries they cause.
California intersections are major hazards for drivers even under normal circumstances. Traffic officials recorded 1,454 accidents involving injuries in Fresno in 2021. 528 of those serious accidents occurred at intersections across the city.
Drivers must show caution any time they are passing through or turning in an intersection. That responsibility is even more important when mother nature or a power failure makes an intersection even more hazardous. Drivers should slow down to make sure everyone gets passage through an intersection safely.
What to Do After a Getting Struck by a Car in an Intersection
Victims and their families are encouraged to stay informed of every benefit available to them after a terrible accident. A Fresno Car Accident Lawyer will discuss your case in a free consultation and make sure you don't forfeit your rights to seek compensation. There is more information on the levels of support victims can expect on our accident page here.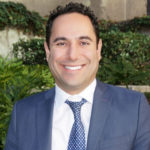 Martin Gasparian is the founder of Maison Law, a California Personal Injury Law Firm. Martin is a graduate of Georgetown University Law School and has been practicing law in California 2004. His practice focuses on helping injury victims know their rights and recover just compensation.