A three-car accident injured five people in Merced over the weekend, with one vehicle ending up pressed against a tree. According to a report from KMPH, five people were hospitalized in the accident near M Street and West 23rd in Merced on Saturday night, April 29, 2023.
The Merced Fire Department (MFD) was first on the scene and had to extract the driver of a Toyota Tacoma when he ended up pinned inside of his vehicle that was against a tree. The cause of the accident is still under investigation, but a total of three vehicles were involved.
The conditions of the five people sent to a local hospital for injuries have yet to be released.
Maison Law, which helps victims of car accidents in Merced, posted additional information about the accident.
How Common Are Multi-Vehicle Accidents in Merced?
According to data from the California Highway Patrol's Statewide Integrated Traffic Records System (SWITRS), there are a number of vehicle accidents throughout Merced every year. In 2022, SWITRS found that there were:
437 vehicle crashes that resulted in injuries
In most of these accidents, multiple vehicles were involved. The reasoning behind multi-vehicle accidents being more damaging is not complicated: the more people and vehicles that are involved in an accident, the more chances there are for injuries and damages. That said, certain factors make multi-vehicle accidents a bit more dangerous than normal accidents:
Multiple points of impact
Higher speeds in collisions
Secondary collisions and impacts
Fuel leaks and other hazards, which can lead to fires or explosions
Traffic congestion due to multiple vehicles being involved
All of these issues are usually present in most multi-vehicle accidents, but another major drawback to them is that it's often difficult to figure out liability. Under normal circumstances, either one driver or the other is usually at fault for an accident. However, adding multiple vehicles and drivers makes it much murkier.
Next Steps For Merced Car Accident Victims
When attempting to protect your legal rights, not only will you have to deal with one insurance company, but you could also end up having to deal with multiple insurance companies that are all working to reduce their liability. In these situations, a Merced car accident lawyer can answer any question you may have and provide you with further guidance on your legal options.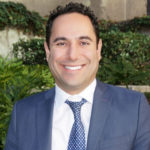 Martin Gasparian is the founder of Maison Law, a California Personal Injury Law Firm. Martin is a graduate of Georgetown University Law School and has been practicing law in California 2004. His practice focuses on helping injury victims know their rights and recover just compensation.