Accident victims in Los Angeles aren't just limited to people who live here. They could be people from anywhere in the world who are traveling through the city, doing business here or visiting friends or family. If you're from another state or country, the laws in connection with filing a claim or lawsuit seeking compensation for your injuries and damages in California are likely to be entirely different than those where you are from.
The Jurisdiction and Venue Issues
If you and the person who caused your injuries and damages are both from California, and the accident happened in Los Angeles County, the State of California has jurisdiction or authority over your case, and Los Angeles County will likely be the place where the case would be heard. If you're from Chicago, it's not going to be convenient for you file in Los Angeles, but if jurisdiction will be in California, and venue will in Los Angeles, Venue is the county where the case must be heard.
What Should I Do Immediately After the Accident?
If it's a motor vehicle crash, call 911 and ask that both police and an ambulance be dispatched to the scene. You probably won't know where a hospital is, so ask the paramedics at the scene to transport you to a nearby emergency room to be examined. Don't wait until you return home for this. You need to tie the injury into the accident right away. If the accident isn't a motor vehicle crash, police might refuse to come to the scene, but you'll still want paramedics there to stabilize your condition and transport you to an emergency room. To preserve and protect your rights, don't talk with any insurance company that might contact you except your own. Such a refusal is not unlawful.
Can My Local Attorney Represent Me in My California Lawsuit?
The general rule is that your local lawyer cannot represent you in your California lawsuit unless he or she is licensed in California. On that basis, it's far better for you to retain a Los Angeles personal injury lawyer from Maison Law. It's especially true if you suffered complex injuries that aren't particularly straightforward. Here are a few other reasons why you should retain Maison Law to represent you in your Los Angeles personal injury accident:
Our Advantage with Local Insurance Adjusters: For a variety of reasons, we might not file a personal injury lawsuit right away. If your lawyer is in Chicago and isn't licensed in California, the opposing insurance adjuster knows that he or she can't come to Los Angels to represent you. That's likely to result in substantially lower settlement offers.
Thorough Knowledge of California Personal Injury Law: California laws are going to govern your claim or lawsuit. On some legal issues, the law of personal injury in California and Illinois are substantially similar. On others, they're completely divergent.
Better Opportunities to Investigate Your Case: An attorney in Chicago can't pound Los Angeles pavement. Maison Law is in a far better position to obtain evidence like traffic cam or surveillance video footage, and occurrence and post-occurrence witnesses.
Knowing the Opposing Attorneys: Maison Law has worked against countless insurance defense law firms over the years. We know what lawyers work with which insurance companies, and we might have even been against the attorney assigned to your case on a case or two before. We know a law firm's strengths and weaknesses.
Contact a Los Angeles Personal Injury Lawyer.
We know what you're going through as an out-of-state personal injury victim. Contact the Maison Law Los Angeles office for a free consultation and case review, and we can discuss how your accident happened, the compensation that might be available to you and all of your legal options. As we take accident cases on a contingency fee basis, no up-front legal fees are even needed to retain us. Upon being retained, our objective will be to obtain the highest possible settlement or award that you deserve.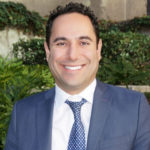 Martin Gasparian is the founder of Maison Law, a California Personal Injury Law Firm. Martin is a graduate of Georgetown University Law School and has been practicing law in California 2004. His practice focuses on helping injury victims know their rights and recover just compensation.