A man sustained injuries in a hit-and-run pedestrian crash that occurred at a Fresno intersection on Thursday. ABC30 reported that the accident happened at the intersection of Nielsen Avenue and Thorne Avenue at 1 a.m. on the morning of October 26, 2023.
A little after the accident may have happened, a local police officer was driving in the area. They discovered a man lying on the road who had been struck forcefully by a vehicle. They stopped at the scene to aid the pedestrian. The driver of the vehicle fled the scene and was not present.
Paramedics and other local responders were immediately dispatched to the scene to help those in need. The pedestrian, who has since been identified only as an adult male, was seriously injured and rushed to Community Regional Medical Center for treatment. He has since been listed in critical condition for his injuries.
The area was blocked off at the intersection for some time after the accident. Police have not yet found the driver responsible for the accident.
No further details have been released but the investigation into the collision remains ongoing.
Maison Law posted details concerning this accident and information on how a victim can move forward after a pedestrian accident.
Dangers of Fresno Pedestrian Accidents
Fresno sees more pedestrian accidents than many other cities in Fresno County each year. In 2022 alone, the Transportation Injury Mapping System (TIMS) estimated that a total of 180 pedestrian accidents took place in Fresno. Out of these accidents, 31 lives were taken and 164 people sustained injuries.
Pedestrian accidents are some of the most severe accidents that occur on our roads due to the fact that pedestrians are incredibly vulnerable parties. These accidents can happen at any point but are more common when drivers are not focused on what is happening on the roads around them. Victims are urged to seek legal help after a pedestrian accident so that they can become informed of their many legal options.
After a Pedestrian Accident in Fresno
You never expect that you will become injured in a life-altering pedestrian accident until it has happened to you. If you have been hurt in a pedestrian accident and believe that a hit-and-run driver is to blame, it is crucial that you speak with a legal advocate who has handled these claims in the past.
A Fresno pedestrian accident lawyer can help you and your family get back on track both physically and financially so that you can move forward after an accident. We offer you a free and completely confidential case review. You should not have to pay the bills on your own when another party has caused you harm.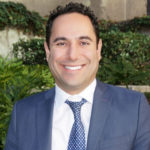 Martin Gasparian is the founder of Maison Law, a California Personal Injury Law Firm. Martin is a graduate of Georgetown University Law School and has been practicing law in California 2004. His practice focuses on helping injury victims know their rights and recover just compensation.