A Fresno weekend collision left five cars damaged and sent six victims to the hospital. The California Highway Patrol responded to the scene along State Route 41 in southern Fresno on Saturday afternoon around 1 p.m.
KSEE-TV reported on the accident in the southbound lanes at the intersection of American Avenue on January 28, 2023. A spokesperson for the California Highway Patrol said that a driver initiated the accident when the driver failed to slow down for a red light and rammed a car stopped at the intersection.
It's estimated the first vehicle was traveling between 50 and 60 miles per hour when it rear-ended the other car. That sent the vehicle into another vehicle creating a chain-reaction collision that affected five cars in all.  Several cars and at least one pickup truck were involved.
Ten victims reported injuries in the aftermath. Six of those patients were rushed to the hospital. One victim was suffering from major injuries. Two other patients were said to have moderate injuries. The remaining victims all had what were believed to be minor injuries. One young victim was in a car seat when the accident occurred. Thankfully, the child's injuries were thought to be minor.
CHP officers don't believe drugs or alcohol factored into the collision. They believe the driver just didn't stop in time to avoid an impact and may have been distracted.
Maison Law of Fresno also posted details about the accident. They included information for injured victims on how to make sure their hospital bills are covered by the car insurance companies for at-fault drivers.
Highway Accident Dangers on Highway 41 in Fresno County
Long, straight rural highways through Fresno County can easily lull drivers into a state where they aren't as alert as they should be. They can approach an intersection while lost in thought or while distracted by a text or a phone call. They may put others at risk by failing to hit the brakes for a traffic jam, a red light, or a stop sign.
These dangerous accidents threaten Fresno drivers every day of the week. The California Transportation Injury Mapping System (TIMS) recorded 3,603 accidents involving injuries on Fresno County roads in 2021. Those accidents led to almost 200 tragic deaths over the year. Highway 41 traffic was blamed for 212 of those accidents at least 7 fatalities for the year.
Drivers on routes like Highway 41 can be as careful as possible and still be placed in jeopardy. Unfortunately, there's no way for drivers and passengers to remain completely protected from reckless motorists who may strike them from behind or even sideswipe them from the next lane. The only way to prevent these sorts of accidents is for careless drivers to slow down and pay closer attention to the lanes and less attention to their phones and other distractions.
What To Do After a Serious Car Accident in Fresno
Victims of dangerous highway accidents and their families are encouraged to stay informed of every benefit available to them. A Fresno Car Accident Lawyer will discuss your case in a free consultation. Make sure you don't forfeit your rights to seek fair financial support to pay for your recovery from a careless driver's insurance company.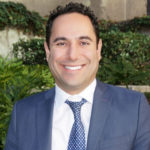 Martin Gasparian is the founder of Maison Law, a California Personal Injury Law Firm. Martin is a graduate of Georgetown University Law School and has been practicing law in California 2004. His practice focuses on helping injury victims know their rights and recover just compensation.