An attempted traffic stop Sunday night in Fresno led to a chase and frightening collision that sent three innocent people to the hospital. ABC30-TV reported the accident occurred at Clinton Avenue and Wishon Avenue on March 5, 2023.
The Fresno County Sheriff's Department says it started when deputies tried to stop a driver for a traffic violation at Maroa Avenue and Fedora Avenue. The man driving the car fled the scene. A short pursuit by officers ended when the suspect ran a red light at Clinton and Wishon Avenue and struck another vehicle.
Three people were in the second vehicle, and they were all transported to the hospital. There have been no official updates on their conditions.
The driver who ran from the traffic stop was found to have active warrants out for his arrest. He was apprehended and burglary tools were located in his vehicle. Fresno County authorities continue to examine the circumstances surrounding the incident.
Maison Law of Fresno features more details about this tragic incident on its website and what victims should do after being seriously injured in a collision.
Car Accident Dangers in Fresno
Fresno drivers are unfortunately subject to the criminal acts of other drivers far too often. Motorists traveling while impaired by drugs or alcohol, engaged in street racing, or on the run from the police, endanger dozens of cars along their routes.
Drivers and passengers may have no idea that an approaching driver is proceeding while drunk, or going above the speed limit in order to escape officers. The sad truth is innocent drivers are often given little time to react in order to steer clear of trouble.
In a 2020 report from the California Highway Patrol, data showed that there were an estimated 8,822 police pursuits across the state in 2019. Almost one-fourth of those police chases resulted in a collision. 35 tragic deaths resulted from those pursuits with about 40% of the victims being uninvolved third-party motorists.
These tragic accidents result from the poor choices of suspects who take their own lives in their hands as well as everyone else's.
What Victims Can Do After a Fresno Car Accident
Car accident victims are encouraged to stay informed of every benefit available to them after a terrible collision. Victims are encouraged to file an injury claim to earn important financial support to pay their medical bills and be reimbursed for the paychecks they lose while missing work. A Fresno Car Accident Lawyer will discuss your case with you in a free consultation. This case review is confidential and comes with no obligation to you or your family.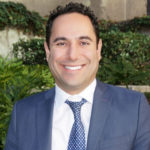 Martin Gasparian is the founder of Maison Law, a California Personal Injury Law Firm. Martin is a graduate of Georgetown University Law School and has been practicing law in California 2004. His practice focuses on helping injury victims know their rights and recover just compensation.