A man sustained critical injuries in a pedestrian accident that happened on Saturday evening in Fresno. The Fresno Police Department responded to the scene around 5:30 p.m. on August 26, 2023.
Your Central Valley reported that the accident happened on Saturday evening at the intersection of First Street and Bullard Avenue. A teen was driving in the area and made a northbound turn onto First Street when they collided with a pedestrian who was crossing at the intersection. The teen came to a stop and remained at the scene.
Several emergency responders were dispatched to the scene to help those in need. The pedestrian, identified as a man in his 70s, was rushed to a local hospital with critical injuries. Nobody else was hurt in the collision.
The roadway was blocked at the intersection for a short period of time after the accident so police could clear the scene.
The teen was found to not be under the influence of drugs or alcohol and possessed a permit. Fresno Police continue their investigation into the circumstances of the accident.
Maison Law of Fresno also posted details concerning this pedestrian accident and information on how victims can secure support following a collision caused by another party.
Fresno Pedestrian Accident Hazards
Drivers owe pedestrians a "duty of care" on our roads, which means watching out for these vulnerable parties at intersections, in crosswalks, and on sidewalks. No matter where a pedestrian is located, a driver is supposed to slow down when they are around these individuals who have no protection on our roads. A devastating accident could lead to extensive damages that a driver could be liable for when an accident occurs.
Fresno's pedestrian accident rates have been monitored closely by the Transportation Injury Mapping System (TIMS) every year. In 2022, it was reported that 242 pedestrian accidents happened in all of Fresno County. This means that 6.6% of injury and fatality accidents involved a pedestrian in 2022.
These alarming numbers represent individuals who never expected their lives to be turned upside-down suddenly by a pedestrian accident. For those who have suffered greatly due to a pedestrian accident, they may find that they have options for recovery from an at-fault party.
What Injured Individuals Can Do After a Pedestrian Accident
It can be difficult to get back on your feet physically and financially after a pedestrian accident. Staying aware of the benefits that may be available to you can help you come to terms with your accident and provide you with clarification on how you will move forward. A Fresno pedestrian accident lawyer will compassionately help you navigate the legal system and identify liable parties in your case. You qualify for a free and confidential case consultation. This comes with no obligation to you and your family.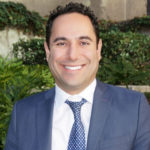 Martin Gasparian is the founder of Maison Law, a California Personal Injury Law Firm. Martin is a graduate of Georgetown University Law School and has been practicing law in California 2004. His practice focuses on helping injury victims know their rights and recover just compensation.