A tragic wrong-way accident in Downtown Los Angeles claimed one life and left three victims hospitalized. The California Highway Patrol (CHP) responded to the scene in the northbound lanes of 110 Freeway near USC Campus early Friday morning.
NBC Los Angeles reported the tragedy was first called in at 2:49 a.m. after a chain-reaction crash near the Exposition Boulevard interchange on May 26, 2023.
The CHP determined that a driver traveling in the northbound lanes of the freeway in the wrong direction caused a head-on accident that eventually involved several vehicles.
One victim in the impact was rushed to a local hospital with life-threatening injuries. Sadly, the male victim could not be saved and was pronounced dead at the hospital. Three other victims were judged to be in critical condition and were taken to the hospital.
CHP investigators continue to examine the circumstances surrounding the accident to determine why the at-fault driver ended up on the freeway headed in the opposite direction of traffic.
Maison Law of Los Angeles also posted information about this tragic accident along with information on how victims and their families can seek accident support.
110 Freeway Accident Dangers in Los Angeles
Freeway traffic in Los Angeles has always been dangerous. There are police chases, drivers racing each other, and even drivers who fall asleep at the wheel.
Drivers can read over emails and texts on their cell phones and miss spotting red lights and important traffic warnings. Motorists can also take to the roads after consuming drugs or alcohol which impairs their judgment and reaction times. These mistakes lead to too many deadly incidents throughout L.A. each year.
California transportation officials monitor accident rates on all freeways running through Los Angeles. Their research showed that there were at least 845 accidents involving injuries on 110 Freeway through Los Angeles County in 2022. 23 people tragically lost their lives in those collisions.
Those figures were down slightly from 2021 cases when 937 serious accidents occurred on the freeway, costing 31 lives.
The shocking accident numbers should be enough to encourage all Los Angeles drivers to slow down and take more responsibility for their actions before a mistake is made that can't be undone.
What To Do After a Car Accident in Los Angeles
Victims of dangerous accidents and their families are encouraged to stay informed of every benefit available to them. A Los Angeles Car Accident Lawyer will discuss your case with you in a free consultation. This case review is confidential and comes with no obligation to you or your family. After a scary collision, victims should be able to secure the best medical care available and cover the costs. Families who have lost a loved one must receive full support to help them get through such a difficult time.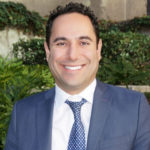 Martin Gasparian is the founder of Maison Law, a California Personal Injury Law Firm. Martin is a graduate of Georgetown University Law School and has been practicing law in California 2004. His practice focuses on helping injury victims know their rights and recover just compensation.