Two men lost their lives in an early morning head-on collision in northwest Kern County on Monday. The California Highway Patrol responded to the scene just east of Lost Hills and Freeway 5 at around 6:45 a.m.
KBAK-TV reported the accident occurred along Corcoran Road north of McCombs Road on October 17, 2022.
California Highway Patrol investigators found that an Infiniti car was traveling southbound on Corcoran Road and a Kia Spectra was traveling northbound. For an undetermined reason, the driver of the Infiniti swerved into the opposite lane of traffic and struck the Kia head-on. Both cars suffered major damage. The Infiniti traveled off the road and struck a fence.
The driver in the Kia and a backseat passenger were killed in the collision. Both victims were from Lost Hills. The driver of the Infiniti suffered serious injuries and was rushed to the hospital. Two other passengers involved in the accident were diagnosed with moderate injuries and transported to the hospital.
California Highway Patrol officers don't believe drugs or alcohol were contributing factors in the accident. CHP investigators continue to examine the circumstances surrounding what happened.
Maison Law of Bakersfield also posted details about the accident and support information for victims.
Head-On Accident Dangers on Rural Kern County Roads
Many drivers pay enough attention to other motorists on the road to give themselves time to steer clear of a mistake. Sadly, that advance warning doesn't always come when another driver makes a careless error in the lane.
Unfocused drivers can fail to notice they've crossed a white or yellow line into an oncoming lane. The driver in the opposite lane may not notice either until it's too late to avoid a dangerous front-end collision. These head-on impacts carry a tremendous force that puts drivers and passengers at an elevated risk of losing their lives. These dangerous accidents happen far too often on Kern County roads.
California traffic officials recorded 3,948 vehicle collisions involving injury across Kern County in 2021. Sadly, almost 200 people lost their lives in those accidents.  225 of those crashes were documented as head-on impacts and 31 fatalities were attributed to those incidents.
These frightening accidents can be prevented with a little more attention paid to the road.
What to Do After a Major Accident in Kern County
Victims and their families are encouraged to stay informed of the benefits and support available to them after a terrible accident. A Kern County Car Accident Lawyer will discuss your case with you in a free consultation and make sure you don't forfeit your rights to seek financial support through such a difficult time.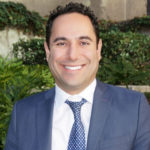 Martin Gasparian is the founder of Maison Law, a California Personal Injury Law Firm. Martin is a graduate of Georgetown University Law School and has been practicing law in California 2004. His practice focuses on helping injury victims know their rights and recover just compensation.