A devastating semi-truck accident caused injuries for one victim on Thursday in Madera. California Highway Patrol officials responded to the scene on Highway 99 close to the Avenue 12 area.
Your Central Valley reported the accident happened at 8 a.m. on August 10, 2023. Officers on the scene stated that a semi-truck was traveling in the southbound lanes when traffic started to slow down in front of them due to an accident in the other lanes. The semi-truck driver was unable to stop, causing a chain-reaction collision that involved several passenger vehicles and a pickup truck with a trailer attached to the back.
When paramedics arrived to assist the victims, they discovered that one of the involved drivers was trapped in a vehicle. After being extricated, they were flown to a local hospital by medical helicopter for treatment of serious injuries.
The driver of the pickup truck involved in the accident fled the scene and police have not been able to locate them.
Police blocked off a large portion of the highway in the area. The roadway was cleared within several hours.
No further details have been released but California Highway Patrol continues its investigation into the circumstances of the collision.
Maison Law also posted details regarding this accident and how victims of truck accidents can move forward with a claim against at-fault parties.
Madera Truck Accident Dangers
Because so many tractor-trailers share our major highways in Madera and beyond, we don't tend to take a second glance in their direction. However, it is important to remain informed about the many dangers that large trucks pose when a catastrophic accident occurs. Even the simplest mistake such as falling asleep at the wheel for just a second or becoming distracted by a cell phone could lead to a traumatic truck crash that ends in injuries or takes a life.
California's Transportation Injury Mapping System (TIMS) recorded a total of 40 truck accidents that happened in Madera County in 2022. Out of these accidents, 57 individuals were injured and two lost their lives.
Especially because so many major truck crashes happen on highways in California each day, drivers should always take precautions when they are traveling at high speeds and dealing with adverse traffic conditions. All types of accidents can be prevented when drivers stay alert and focused on the roads around them.
What To Do After a Truck Accident in Madera
Individuals who have been hurt in truck accidents should stay informed of the options available to them, as well as the benefits they might receive. Speaking with a Madera truck accident lawyer can help you and your family move forward with a claim. Your case review is completely confidential and obligation-free.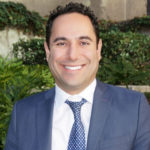 Martin Gasparian is the founder of Maison Law, a California Personal Injury Law Firm. Martin is a graduate of Georgetown University Law School and has been practicing law in California 2004. His practice focuses on helping injury victims know their rights and recover just compensation.