A bus carrying at least a dozen people crashed in rural San Bernardino County, California on the night of Tuesday, December 13, 2022. The accident, which occurred around 11:35 p.m. near mile marker 126 near the town of Baker in rural San Bernardino County, saw a bus overturn and eject several of its passengers onto the 15 Freeway, reported YourCentralValley.com.
One passenger was pronounced dead at the scene by the San Bernardino County Fire Department, which responded to the crash. 11 other passengers were injured, three of which were in critical condition. Eight other passengers were moderately injured, and were transported to a local hospital by one of the several ground ambulance crews that also responded to the crash.
Emergency crews on the scene worked to stabilize the more seriously injured passengers, providing advanced life support until additional crews arrived. The passengers' injuries were severe enough that four helicopters were required to airlift them to the hospital for treatment.
While the cause of the crash is still under investigation by the California Highway Patrol, the accident is currently being classified as a "mass casualty incident" due to the number and severity of the passengers that were injured.
Maison Law in California also reported on the accident and about the benefits injured victims should seek.
Understanding Your Rights As a Bus Accident Victim in California
According to the California Highway Patrol's Statewide Integrated Traffic Records System (SWITRS), there were 1,459 passengers injured in bus crashes in 2019, with 32 of these accidents involving at least one fatality.
In California, buses are held to the same standard as any other motor vehicle in terms of being liable for accidents. Thus, if bus drivers cause an accident due to negligence, they and the company they work for are liable for the damages. Not only that, but there are number of other potentially liable parties depending on what caused the accident, like:
The bus company
Manufacturers whose defective parts contributed to the accident
The company that leased the bus
Shippers or loaders of the buses
Passengers on the bus that distracted the driver
Maintenance personnel that worked on the bus
Depending on how many at-fault parties there are in a bus accident, your claims could involve multiple insurance companies.
California Bus Accident Lawyers Can Help You
California bus accident victims are encouraged to contact Maison Law to learn more about their legal rights and what they can do to get the support and benefits they need for injuries that resulted from a bus accident.
Maison Law serves clients throughout California, and offers free, no-obligation consultations to any accident victim.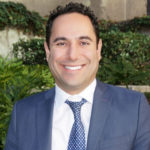 Martin Gasparian is the founder of Maison Law, a California Personal Injury Law Firm. Martin is a graduate of Georgetown University Law School and has been practicing law in California 2004. His practice focuses on helping injury victims know their rights and recover just compensation.