A pickup truck crashed through the wall of a bank in north Fresno leaving six people hurt. Fresno Police responded to the accident Wednesday morning, August 17, 2022, near the intersection of Blackstone Avenue and Nees Avenue.
KFSN-TV reports the collision occurred around 10:30 a.m. and left a Chase Bank location in the River Park Shopping Center badly damaged.
Fresno Police officers determined that a woman in her 70s driving a Chevy Silverado was attempting to park when she accidentally accelerated. The truck smashed into the business and came to a stop inside.
In all, six people inside reported injuries. Three people were loaded into ambulances and taken to the hospital. One of the victims had been inside the bank when she was hit by the truck and may have ended up underneath the vehicle.
Investigators say that drugs or alcohol were not responsible for the accident. They had not determined if the woman driving the truck would be charged.
Vehicles into Buildings Accident Dangers in Fresno
Fresno drivers must be on high alert at all times when around defenseless pedestrians. They must maintain that caution when they drive through parking lots and attempt to park. A lack of attention can cause a motorist to hit the wrong pedal or forget to put a vehicle into park to cause a terrible accident.
Pedestrians walking by or inside a nearby business can suddenly be in extreme jeopardy when an out-of-control vehicle is on the loose around structures. A vehicle could easily travel through a bank, a restaurant, or a store to endanger the people inside.
California's Transportation Injury Mapping System (TIMS) kept track of all accidents in Fresno in 2021. They documented almost 1,500 collisions involving injury for the year leading to 28 tragic deaths. However, 184 of those Fresno accidents involved a vehicle striking a fixed object. Those accidents led to at least 5 deaths in 2021.
These alarming numbers only serve to remind all drivers that they must remain vigilant on the roads, in parking lots, and when parking to keep other motorists, pedestrians, and people in buildings safe.
What to Do After a Getting Hurt in a Car Vs. Building Accident
Victims and their families are encouraged to stay informed of every benefit available to them after a terrible accident. A Fresno Car Accident Lawyer will discuss your case in a free consultation and make sure you don't forfeit your rights to seek compensation. There is also more information on the levels of support victims can expect on our accident page here.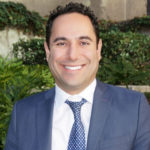 Martin Gasparian is the founder of Maison Law, a California Personal Injury Law Firm. Martin is a graduate of Georgetown University Law School and has been practicing law in California 2004. His practice focuses on helping injury victims know their rights and recover just compensation.