A hit-and-run driver strikes a Stockton pedestrian and then leaves the victim at the scene. The tragic weekend accident happened near downtown Stockton. The Stockton Police Department rushed to the scene sometime after 3 a.m. along Airport Way.
CBS13-TV reported the accident occurred in the area of Washington Street near the Highway 4 overpass.  Stockton officers found a man there suffering from traumatic injuries. The man was later pronounced dead at the scene.
The driver involved did not remain at the scene. Investigators say the person responsible drove away before they arrived. Officers did not have a description of the driver or the vehicle involved to release at the time.
If you witnessed the accident or know anything about the location of the hit-and-run suspect, please reach out to the Stockton Police Department.
Maison Law of Stockton also posted information about this accident and help for families with what to do after a hit-and-run pedestrian accident claims a loved one's life.
Pedestrian Accident Dangers in Stockton in 2023
Drivers in Stockton are required to always show pedestrians a special "duty of care". They must monitor every sidewalk, crosswalk, and lane for those on foot and then slow down to make a collision with the vulnerable pedestrian impossible.
This duty of care must be shown, even if a victim isn't using a crosswalk or is crossing in the middle of a street. The law often holds drivers liable for the devastating consequences of a pedestrian impact no matter where it happens.
Stockton's pedestrian accident rates are closely monitored by the California Statewide Integrated Traffic Records System (SWITRS) each year. In 2022, Stockton documented 118 pedestrian accidents involving injury. Those incidents led to 8 tragic deaths.
2022's number of accidents was up slightly from 2021's 92 total serious pedestrian accidents. But 2021 proved to be deadlier with 10 fatalities to report.
These shocking numbers represent the real lives of victims and the grief caused for families whose lives are changed forever by the loss of a loved one. Victims and families deserve our full support after a pedestrian accident. They also deserve every driver's best effort to try to bring an end to these tragic incidents.
What Families Can Do After a Fatal Stockton Pedestrian Accident
The families of pedestrian victims are encouraged to stay informed of every benefit available to them after a terrible accident. Close relatives can file a wrongful death claim to earn important financial support to protect those left behind in the years ahead. A Stockton Pedestrian Accident Lawyer will discuss your case with you in a free consultation. This case review is confidential and comes with no obligation to you or your family.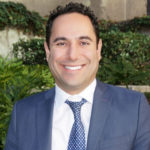 Martin Gasparian is the founder of Maison Law, a California Personal Injury Law Firm. Martin is a graduate of Georgetown University Law School and has been practicing law in California 2004. His practice focuses on helping injury victims know their rights and recover just compensation.