A collision between a motorcyclist and another vehicle on the evening of Friday, December 16, 2022, left the motorcyclist dead. The accident, which occurred near the intersection of Jensen and Armstrong Avenues in southeast Fresno, CA, occurred around 6:30 p.m. according to the story from KFSN.
The Fresno Police Department (FPD) originally responded to multiple calls that reported the accident. Once they arrived on the scene, they found a man unresponsive in the roadway. Life-saving efforts were made on the scene but were ultimately unsuccessful.
A preliminary investigation by FPD found that a vehicle traveling east on Jensen Avenue tried to turn left and ended up colliding with the man, who had been traveling westbound on Armstrong Avenue on his motorcycle.
Authorities also say that the driver and passenger of the vehicle are cooperating with the investigation, which is still ongoing. Alcohol and drugs did not play a factor in the accident, which caused a two-hour closure of the road near the accident scene.
Maison Law of Fresno also reported on the accident, as well as the potential benefits victims and their families can receive in a resulting claim.
Fresno Motorcycle Accident Statistics and Risks
Riding a motorcycle in Fresno—and virtually anywhere else—offers a lot of excitement and fun. But motorcycles also come with a lot of risks. This is due to their nature. They're much smaller and compact than a normal vehicle, which means they also provide a lot less protection in the event of an accident. Also, they are much faster than normal vehicles, which only increases the risk for an accident. Above all, though, motorcyclists have to watch out for other drivers on the road. The biggest risk of a motorcycle accident with other drivers happens in the following scenarios:
Failing to check blind spots
Changing lanes unsafely or lane splitting
Driving too fast for the road conditions
Failing to yield to the motorcyclist
Driving while impaired by alcohol or drugs
Distracted driving
Running a stop sign or traffic light
Because of these risks, there has been an extensive effort by authorities to catalog and report on accidents involving motorcycles in Fresno.
Through these efforts, data from the Statewide Integrated Traffic Records System has found that over the last five years, there have been an average of 18.4 fatal motorcycle accidents in Fresno alone, with 27 fatal motorcycle accidents occurring in the city in 2021.
Next Steps After a Fresno Motorcycle Accident
Fresno motorcycle accident victims have a variety of different legal options available to them. In order to better understand these options and what benefits can be sought, they should reach out to Maison Law for a free, initial consultation.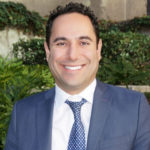 Martin Gasparian is the founder of Maison Law, a California Personal Injury Law Firm. Martin is a graduate of Georgetown University Law School and has been practicing law in California 2004. His practice focuses on helping injury victims know their rights and recover just compensation.