A DUI suspect is blamed for a double fatal accident near the Tachi Palace Casino Resort in Lemoore, California.
The California Highway Patrol says the accident occurred late Friday night near the intersection of Jersey Avenue and 17th Avenue on July 1, 2022.
KGPE-TV reports the collision occurred just before midnight. Investigators believe a 26-year-old driver was traveling at a high rate of speed in his Toyota as he drove by the casino. A Nissan minivan pulled out of the casino's parking lot in the path of the Toyota and was struck.
Two men in the minivan were killed. The victims were a 63-year-old driver and a 52-year-old passenger, both from Fresno.
The California Highway Patrol suspected the 26-year-old driver of the Toyota of driving under the influence of alcohol and arrested him. The driver was found to have serious injuries and was flown to a local hospital.
Lemoore Car Accident Dangers
Drunk driving accidents continue to plague Kings County and Fresno County travelers. The thoughtless act to get behind the wheel while impaired puts so many others at risk of devastating and deadly collisions.
Drunk drivers often don't have the state of mind to hit the brakes after a crash is unavoidable. This can mean cars collide at full speed, causing more serious injuries and increasing the threat to claim lives.
The CDC finds that around a third of all traffic deaths in the U.S. involve a drunk driver. Their researchers documented that over the span of a decade, over 10,000 people in California lost their lives in DUI-related collisions.
The toll these accidents take on victims and their families should be reason enough to make sure potential drunk drivers, their friends and family members, and business owners take every precaution to keep an impaired driver off California freeways and boulevards.
What to Do After a Lemoore Car Accident
Victims and their families are encouraged to stay informed of every benefit available to them after a terrible accident. A family victimized by a drunk driver's mistake can file a wrongful death claim to protect themselves from future financial turmoil after a deadly accident.
A Fresno County Car Accident Lawyer will discuss your case in a free consultation and make sure you don't forfeit your rights or your family's rights to seek compensation.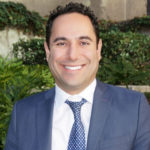 Martin Gasparian is the founder of Maison Law, a California Personal Injury Law Firm. Martin is a graduate of Georgetown University Law School and has been practicing law in California 2004. His practice focuses on helping injury victims know their rights and recover just compensation.