A heartbreaking weekend of deadly hit-and-run pedestrian collisions claimed two lives in Bakersfield.
The first accident was reported by KGET-TV on Friday night. A pedestrian was struck by a driver who left the scene along White Lane near South Real Road on December 2, 2022.
Bakersfield Police got the report of the accident at around 9:45 p.m. They found a man suffering from severe injuries at the scene. He was later pronounced dead.
The motorist believed to be involved was nowhere to be found. Investigators are seeking the driver of a gray Subaru WRX from the mid-2010s. The vehicle will have front-end damage.
KGET-TV reported on a second fatal pedestrian accident on Sunday morning. Bakersfield police were called to the scene shortly after 2:30 a.m. They found a man had been struck by a vehicle. He was pronounced dead at the scene. The driver involved did not remain on the scene to cooperate with investigators.
Bakersfield police are looking for a white four-door car from the early 2000s. It had a spoiler and will have major front-end damage. Police are looking for two other vehicles that may have had something to do with the collision. They would like to track down the driver of an early 2000s model Toyota Corolla. Officers also want to speak with the driver of a gray truck, possibly a Toyota Tundra.
If you have any information about the drivers involved in either of these accidents, you are asked to call the Bakersfield Police Department.
Maison Law of Bakersfield also posted an article about these two tragedies. The post includes important legal information for families who have lost a loved one to a driver's negligence.
Pedestrian Accident Dangers in Bakersfield
We all become pedestrians anytime we park in Bakersfield and get out and walk into work or over to a grocery store. When we cross a parking lot or cross a street, we are at constant risk of careless and reckless drivers.
When a collision does occur, drivers can only make the consequences worse by fleeing the scene to escape responsibility. Victims can be left vulnerable to additional accidents from drivers who approach without any idea that someone is down on the road. The accident also goes unreported for longer and life-saving care can be delayed. Victims and families may also face the expenses a major accident leaves behind without any help at all.
California transportation officials recorded 104 pedestrian accidents involving injury across Bakersfield in 2020. 27 of those accidents involved felony hit-and-run charges. That's almost a quarter of the accidents. In 2021, the accident numbers rose. For the year, there were 113 pedestrian accidents involving injury. 28 of those cases involved a felony hit-and-run driver.
These sad numbers result in painful recoveries for surviving victims and intense grief for families who lose a loved one. It's important to locate hit-and-run suspects and increase the penalties they face so that these tragic numbers can start a decline in 2023.
What To Do After a Loved One Is Lost in a Bakersfield Pedestrian Accident
The families of pedestrian victims are encouraged to stay informed of every benefit available to them after a terrible accident. A Bakersfield Pedestrian Accident Lawyer will discuss your case with you in a free consultation. This case review is confidential and comes with no obligation to you or your family. Make sure you don't forfeit your rights to seek fair financial support from a careless driver's insurance company. There is often support available to families, even when a hit-and-run driver isn't apprehended.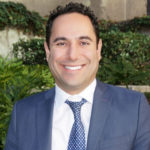 Martin Gasparian is the founder of Maison Law, a California Personal Injury Law Firm. Martin is a graduate of Georgetown University Law School and has been practicing law in California 2004. His practice focuses on helping injury victims know their rights and recover just compensation.