A tragic head-on collision claimed two lives in Stanislaus County on Monday morning. The California Highway Patrol (CHP) responded to the scene sometime after 6:40 a.m. on February 27, 2023.
They confirmed to the Modesto Bee that the crash happened along Highway 4 near Dunton Road, east of Stockton.
Officers determined that a 21-year-old woman from Stockton was driving a 2010 Honda car in the eastbound lanes when she decided to pass a slower-moving vehicle. She illegally crossed a double-yellow line to enter the westbound lane where she collided with an oncoming 2004 Toyota pickup truck in a frontal impact.
The 51-year-old Copperopolis man driving the pickup was killed in the accident. Investigators say that the 21-year-old driver in the Honda wasn't wearing a seatbelt and was also killed in the impact. They were the only two occupants in the vehicles.
The California Highway Patrol is still examining the circumstances surrounding the accident and hasn't finished its investigation.
Maison Law of Stanislaus County also posted details about this crash along with important information for the families of the victims in any devastating car accident.
Passing Vehicle Dangers in Stanislaus County
Drivers on long, unlit highways in rural Stanislaus County must be very careful when attempting to pass other cars in the early morning hours. First, they must never enter an oncoming lane when there are double yellow lines present. Those solid yellow lines are there for a reason. They must also be aware of any curves ahead that could hide the headlights of an oncoming driver.
California's Transportation Injury Mapping System (TIMS) recorded over 3,000 accidents involving injuries across Stanislaus County in 2021. At least 228 of those accidents involved a driver illegally passing or in an improper lane.
California drivers are allowed to pass other motorists, but when they decide to go around, they must be absolutely focused on their own safety and the safety of every other vehicle on the road. They must also obey the traffic laws set in place for these potentially devastating maneuvers. It's the only way to prevent tragic accidents involving a passing motorist.
What To Do After Losing a Family Member in a Tragic Stanislaus County Accident…
Families who have lost a precious loved one in an accident caused by another driver's mistake are encouraged to stay informed of every benefit available to them. These benefits will be important when funeral costs come due and when they face a future without the income a lost loved one would have continued to provide.
A Modesto Car Accident Lawyer serving Calaveras County and Stanislaus County victims will go over these options in a free consultation with your family.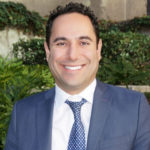 Martin Gasparian is the founder of Maison Law, a California Personal Injury Law Firm. Martin is a graduate of Georgetown University Law School and has been practicing law in California 2004. His practice focuses on helping injury victims know their rights and recover just compensation.