A devastating midday accident in Visalia claimed two lives and injured another victim on Wednesday. Visalia Police say the two-car accident occurred along Demaree Street near the intersection of West La Vida Avenue on March 15, 2023. KGPE-TV reported the collision occurred around 12:30 p.m.
Investigators say the driver of a black GMC truck drove into the path of oncoming traffic while traveling north on Demaree Street. It struck a black Cadillac sedan to do major body damage to both vehicles.
Tragically, a driver and passenger in the Cadillac were declared dead at the scene. The driver of the pickup was taken to a nearby hospital with injuries.
Visalia Police have not said why the GMC truck's driver veered out of the proper lane. Their investigation continues into the cause of the crash. They ask anyone who has information about what happened to call the Visalia Police Department.
Maison Law of Visalia posted more information about this accident and also had information for families who have lost loved ones in heartbreaking traffic collisions.
Visalia Car Accident Dangers
Drivers can monitor the road for potential threats and watch their speeds, but that doesn't mean they are completely safe from the reckless decisions of other drivers.
Motorists can find a cellphone screen more interesting than watching the road ahead. They may be going too fast to remain in control of their vehicles. These and other mistakes are often the cause of accidents that result from a vehicle suddenly entering the path of other cars.
California's Transportation Injury Mapping System (TIMS) recorded 387 accidents involving injuries across Visalia in 2021. Those crashes led to at least 8 tragic deaths for the year. 34 of those accidents involved dangerous head-on collisions that often result from wrong-way accidents and accidents caused by drivers crossing double yellow lines into oncoming traffic.
Visalia is the scene of a surprising number of dangerous impacts each year. It's every driver's responsibility to remain vigilant on our roads to help reduce the number of devastating accidents that leave drivers and passengers in need of life-saving care.
What Families Can Do After a Tragic Visalia Car Accident
Families who have lost a loved one in a car accident are encouraged to stay informed of every benefit available to them after a terrible collision. Close relatives should file a wrongful death claim against an at­-fault driver's car insurer to earn important financial support to pay for funeral costs and leftover medical bills. This support can also protect a family financially in the future.
A Visalia Car Accident Lawyer will discuss your case with your family in a free consultation. This case review is confidential and comes with no obligation to you.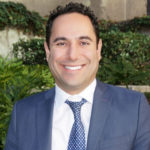 Martin Gasparian is the founder of Maison Law, a California Personal Injury Law Firm. Martin is a graduate of Georgetown University Law School and has been practicing law in California 2004. His practice focuses on helping injury victims know their rights and recover just compensation.