A devastating livestock truck accident claimed the life of an SUV driver just before noon on Tuesday in San Joaquin County. The California Highway Patrol responded to the scene along Highway 88, also known as Waterloo Road, east of Stockton, just before noon on May 16, 2023.
ABC10-TV reported the collision occurred at the highway's intersection with Alpine Road. Investigators say a truck driver driving a semi and trailer hauling 68 cattle ran a red light while traveling westbound on the highway.
A woman was driving a Toyota SUV northbound on Alpine Road when her vehicle was struck on the left side by the semi-truck. The SUV was flipped and left under the cattle trailer.
The female driver died at the scene. The truck driver did not suffer injuries.
The California Highway Patrol continues its investigation into what happened. They do not believe drugs or alcohol caused the accident.
Maison Law of Stockton also posted information about this tragic accident along with information on how families can seek financial support through such a difficult time.
Truck Accident Dangers in Stockton
Stockton and San Joaquin County record an extreme number of serious truck accidents each year. According to California transportation officials, the county documented 312 truck accidents involving injuries in 2022. That figure was a slight increase over 2021's 308 cases.
There were true tragedies included in those yearly statistics. There were 16 people who lost their lives in truck accidents in San Joaquin County in 2022. 21 people lost their lives in 2021.
Truck drivers and delivery drivers must do a better job of staying alert and conscious of the loads behind them. A small mistake in a big rig can lead to devastating consequences for those traveling in much smaller vehicles. A little bit more focus on the road can allow everyone to make it home safely.
What To Do After a Truck Accident in San Joaquin County
Families who have lost a loved one in a truck accident are encouraged to stay informed of every benefit available to them. A Stockton Car Accident Lawyer will discuss your case with you in a free consultation and go over the best options for protecting grieving family members in the years ahead.
This case review is confidential and comes with no obligation to you or your family. After a tragic collision, families must receive full support to help them get through such a difficult time.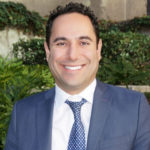 Martin Gasparian is the founder of Maison Law, a California Personal Injury Law Firm. Martin is a graduate of Georgetown University Law School and has been practicing law in California 2004. His practice focuses on helping injury victims know their rights and recover just compensation.