A 24-year-old woman was sent to a local Bakersfield hospital with major injuries following a car accident that occurred around 10:20 p.m. on Sunday night, December 11, 2022. The accident, which took place at the intersection of South Union Avenue and Watts Road in South Bakersfield, CA, involved the 24-year-old woman and a 28-year-old woman, reported  KBAK/Fox58.
California Highway Patrol (CHP) responded to the call at 10:20 p.m. and discovered the accident involving a blue Honda that was being driven by the 24 year old woman and a white Ford SUV driven by the 28-year-old-woman, whose injuries were minor.
The 24-year-old woman's injuries were serious enough that she required transport to a local hospital. CHP has not provided an update on the woman's condition.
Maison Law of Bakersfield also reported on the accident and the support injured victims in similar accidents can receive.
Driving At Night in Bakersfield
Accidents such as this one demonstrate how much more difficult it can be to drive at night than it is during the day in Bakersfield. Not only do you have to account for your own reduced visibility and driving capacity, other drivers are experiencing the same things as well.
While visibility is certainly a problem when driving at night, drowsy driving is much more common at night. According to the National Highway Traffic and Safety Administration, sleepiness and drowsy driving:
Occurs most frequently between midnight and 6 a.m., when people experience dips in their circadian rhythm.
Often involves a lone driver (and no passengers) running off the road at a high rate of speed with no evidence of braking.
Frequently occurs on rural roads and highways.
Not only that, but studies have found that drowsy driving has much of the same effect on drivers as driving under the influence does, just in terms of slowed reaction time and inability to stay alert and focused behind the wheel.
While drowsy driving does indeed pose problems, it is also preventable. Getting adequate sleep is probably the easiest way to avoid drowsy driving, but timing any medications that may make you drowsy and drinking coffee or other energy drinks are two short-term fixes for drowsy driving.
Bakersfield has both rural roads and highways with plenty of traffic at virtually all times during the day, so if you do need to be out on the road at night, you'll want to stay vigilant and make sure you're well rested so you can avoid the obstacles that come with driving at night.
What To Do After a Bakersfield Nighttime Car Accident
Those that have been injured in one of these unfortunate accidents are encouraged to reach out to an experienced Bakersfield attorney. A team of experienced Bakersfield car accident lawyers understands the dangers of driving at night and how to help those who experience these accidents seek the support they need. Contact us to learn more about the benefits available to victims and their families.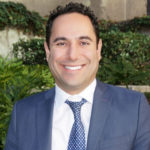 Martin Gasparian is the founder of Maison Law, a California Personal Injury Law Firm. Martin is a graduate of Georgetown University Law School and has been practicing law in California 2004. His practice focuses on helping injury victims know their rights and recover just compensation.