If you intend on bringing a personal injury claim after an accident in California, you'll need certain documents in support of that claim. Even if you're able to accumulate all of these, you're still at a profound disadvantage against an insurance company with well-trained adjusters, talented defense attorneys and billions of dollars of assets. That's why you'll want the involvement and representation of Maison Law on your side of your claim. The law firm's principal, Martin Gasparian is known and respected by insurance companies throughout California. His work on your claim will operate in your best interests far better than you can on your own. That's because he has extensive experience in successful accident claims, and you don't. Here are some of the documents he's going to need in order to begin building your case. If you can't get them, he can get them for you after you retain him to represent you.
Copies of Your Police and Paramedic Reports
Reporting your accident to police is a must under California law. Without a police report, you probably don't have a case. If the driver who caused the crash fled the scene, stay on location and call 911 anyway. You're going to need that report, especially if you're going to file an uninsured motorist claim because of the hit-and-run. If you feel pain from the onset, you'll likely want paramedics at the scene to stabilize you and take you to the nearest hospital. Then, call us, and we'll arrange for a free consultation and case review.
Internal Incident Reports
Maybe your accident and injuries were caused by a slip-and-fall or trip-and-fall. Sometimes, merchandise even falls on customers from high above store aisles. If you immediately bring the accident and injuries to the attention of management, an internal incident report will be generated. You'll want a copy of that right away. Then, call us.
Photos
These are an important part of any investigation. Photos of vehicles after a crash, the location of the crash and your injuries after the crash all paint a picture of how the accident unfolded and a rendition of the events surrounding the accident. With that, a witness isn't likely to change his or her version of how an accident occurred, and the recollection of the witness can be refreshed.
Medical Bills, Records and Employment Information
These are what you'll use to prove the damages that you allege. You must be thorough in assembling them. If time off of work was necessary for your recovery, we'll need appropriate information on your earnings lost from your employer. If you believe that these are complicated endeavors, we can obtain all of the above documentation for you upon retaining us to represent you for your injuries and damages. We'll probably get it all much sooner than you anyway.
What Not to Do
No matter how nice the personnel at the opposing insurance company might seem, that company is not your friend. It might try to get information from you and use it against you before you can get to us. California law doesn't require you to help that insurer build its case against you, so don't answer any questions or give any kind of a statement. Contact us first for that free consultation and case review. You'll be glad that you did.
Contact a California Car Accident Lawyer Today.
You'll likely become dizzy just putting a claim together, and if you try to do it yourself, you can expect the opposing insurer to try to use the cheap and easy method of getting rid of you. Don't expect to be taken seriously. You'll be taken far more seriously with Maison Law on your personal injury claim. Contact us right away after being injured in any accident that was caused by the carelessness and negligence of somebody else.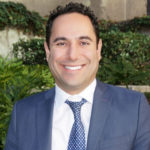 Martin Gasparian is the founder of Maison Law, a California Personal Injury Law Firm. Martin is a graduate of Georgetown University Law School and has been practicing law in California 2004. His practice focuses on helping injury victims know their rights and recover just compensation.