A common issue that is raised in in auto accident injury cases is whether an auto accident injury victim can still seek compensation for their injuries and damages when a crash was caused by the carelessness and negligence of somebody else. Indeed, the victim can proceed accordingly, but a jury might determine that a partial cause of the injuries was by failing to buckle up. That includes the parents of a child who seek damages for their child who wasn't in an appropriate car seat at the time of a crash.
The Seat Belt Defense
Only 15 states currently recognize a seat belt defense. In those states, the defense either turns on comparative negligence when compensation for damages is reduced by the percentage of negligence determined to be attributable to the claimant. The other defense is a failure to mitigate damages that might be caused before an accident. In either defense, an accident victim can be responsible for payment of some or all of their damages from an accident when he or she wasn't wearing a seat belt. If the seat belt defense is raised, the defendant relying on it needs t0 prove the following:
That a seat belt was available for use where the claimant was sitting in the car.
He or she unreasonably refused to wear the seat belt before the crash.
The failure to wear the seat belt caused the claimant to suffer either aggravated injuries or aggravated injuries that wouldn't have been so severe had he or she used a seat belt.
Arguing Against the Seat Belt Defense
The attorneys at Maison Law are prepared to argue against California's seatbelt law defense if it will be raised in your claim or lawsuit. A number of arguments can be raised in your favor. Here are a few examples:
The failure of a claimant to wear a seat belt had nothing to do with the cause of a crash.
It's impossible for a claimant to anticipate the negligence of others. The injuries that a claimant would have prevented by wearing a seatbelt cannot be ascertained within a reasonable degree of medical certainty.
There was a failure to prove that the claimant wasn't wearing a seatbelt.
Contact a Los Angeles Auto Accident Attorney
If you were in a car crash that was caused by somebody else, and there are allegations that you failed to wear a seat belt, you'll want to arrange for a free consultation and case review here at Maison Law as soon as you can. We can talk about how your accident occurred and how it has affected you. Then, we can talk about all of your legal options. If we're retained to represent you, our objective will be to defend any allegations of a failure to wear a seat belt and obtain the maximum damages that you deserve.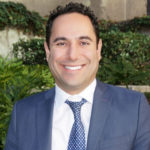 Martin Gasparian is the founder of Maison Law, a California Personal Injury Law Firm. Martin is a graduate of Georgetown University Law School and has been practicing law in California 2004. His practice focuses on helping injury victims know their rights and recover just compensation.