The value of a dog bite lawsuit is determined on a case-by-case basis. Some bites might be minor and only require a visit to an urgent care center. Others can require major surgery. If you or your child were the victim of a dog bite anywhere in California, the first thing that you need to know is that pursuant to California Civil Code section 3342, California is a strict liability dog bite state. Unless the victim was a trespasser or provoking the dog, there are no excuses. It doesn't matter if an owner had the dog for seven or eight years, if it bites somebody, that owner is probably on the hook for injuries and damages.
California is At or Near the Top on Dog Bites
As per the most recent ascertainable numbers from the Insurance Information Institute, California led the nation on dog bite claims in 2018 with 2,396 clams. If you're looking for an average number, the average cost per claim in the state was $45,543. Given the population of the state, it's highly likely that it will perennially be at or near the top of the number of dog bites in the country.
Some Examples of Serious Dog Bite Injuries
A nip and a scratch won't get a dog bite victim much of a settlement though, no matter how much he or she asks for in a lawsuit, especially with only an emergency room or urgent care center bill in hand. More compensable injuries might include the following:
Deep bites that tear muscles and nerves that result in permanent disability.
Finger loss.
Facial or other visible disfigurement that requires surgery.
Serious infections originating from bacteria in the dog's mouth.
A Good Settlement is Better Than a Discharge in Bankruptcy
In serious dog bite injury cases, a settlement or verdict injury can exceed $100,000, especially if surgery was required. Much depends on whether the dog's owner had homeowner or renter insurance. Without such coverage, any verdict would need to come out of the dog owner's pocket. On a six-figure verdict, he or she might just might seek protection through the bankruptcy court. Upon filing for bankruptcy, an automatic stay can be placed on any collection efforts, and it would be highly likely that the judgment would be discharged by the bankruptcy court. That's why if no insurance coverage exists, any realistic settlement offers must be considered.
IF you or your child were the victim of a dog bite anywhere in California, contact us right away at Maison Law, and you can obtain a free consultation and case review with our California dog bite lawyer. You can tell him what happened and how it happened, and he can advise you on all of your legal options. If we're retained to represent you, our objective is to obtain the highest settlement or verdict that you deserve.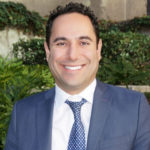 Martin Gasparian is the founder of Maison Law, a California Personal Injury Law Firm. Martin is a graduate of Georgetown University Law School and has been practicing law in California 2004. His practice focuses on helping injury victims know their rights and recover just compensation.