If you're a student who is a foreign national, and you want to travel to the United States for purposes of studying in California, you'll need to obtain an F-1 student visa. The process of obtaining an F-1 visa is somewhat tedious, but it's well worth it. You could be studying at some of the best high schools, colleges and universities in the world. At Maison Law Immigration Lawyers, we've helped many foreign students and their families with F-1 visas.
The individual's country of nationality isn't the United States.
He or she has been accepted to a school in the United States.
That school is preapproved by the Student and Exchange Visitor Program (SEVP).
The foreign national has ties to his or her home country like family and bank accounts.
He or she has sufficient funding to pay for tuition and living expenses.
Returning to your country of origin after you've finished school within 60 days.
Caveat: Be sure to tell the embassy officer who interviews you for your visa that you
intend on returning to your country of origin from the United States when your course of study is completed. Otherwise, your visa application could be denied.
The Admission Process
At this point in time, the F-1 visa process costs $510. $350 of that is for the SEVP fee. You'll need to complete and submit an I-20 form which is a certification of eligibility to apply for an F-1 visa and a DS 160 Nonimmigrant Visa Application Form. Both can be completed online. Confirm that price before sending your application materials in. Give yourself plenty of time too, because the visa process could take as long as a year.
Am I Able to Be Employed With an F-1 Visa?
A student on an F-1 visa can work up to 20 hours per week during the semester year. That work must be on-campus as opposed to off-campus. After that, he or she might work off-campus for one year if they're involved in the Optional Practical Training Program. Other legal off-campus work opportunities are available.
For help with your student visa, contact Maison Immigration Lawyers. We can help you on your quest to get the education that you deserve.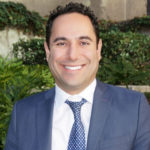 Martin Gasparian is the founder of Maison Law, a California Personal Injury Law Firm. Martin is a graduate of Georgetown University Law School and has been practicing law in California 2004. His practice focuses on helping injury victims know their rights and recover just compensation.