The EB-1 is a first preference visa. It's employment based, and it's available for those who possess extraordinary abilities in the sciences, arts, education, business or sports. The EB-1 also contemplates researchers, professors and multinational executives and managers. A significant level of accomplishment is required. The individual must be able to maintain and sustain international fame, praise, and notoriety in their field. The EB-1 procedure usually involves an employer who sponsors the candidate. Documentation and other evidence operating to show the candidate's qualifications and background form the basis of the EB-1 visa petition and are required. Before you or your employer seek entry into the United States on an EB-1 visa, you'll be doing yourself a favor by speaking with and retaining the knowledgeable and effective attorneys at Maison Law Immigration Lawyers in Glendale, California to represent you.
The Three Subcategories
EB-1 has three subcategories. There are the EB-1A which is for individuals with extraordinary abilities such as a Grammy award or an Olympic medal. An EB-1A applicant can petition himself or herself. EB-1B visas are set aside for extraordinary professors and researchers. International recognition or acclaim in a scholastic area is required. A minimum of three years of teaching or research is required. The candidate must be seeking entry into the United States for purposes of a tenured or comparable position. The United States employer must provide an offer of employment and complete a Form I-140 on behalf of the prospective employee. EB-1B candidates cannot petition themselves. Then, there is the EB-1C petition which is for multinational business managers or executives. In order to qualify for the EB-1C visa, the candidate must have worked at least one year out of the last three years prior to the petition or the last lawful nonimmigrant petition if the employee is already working in the United States. As like the Form I-140, the employer is the petitioner.
Criteria for Showing Extraordinary Ability
For purposes of showing that a candidate has earned national or international acclaim and that his or her accomplishments are recognized their field of expertise, the candidate must submit evidence of either a one-time achievement or 3 of 10 of the following criteria or comparable evidence if the criteria aren't readily applicable:
A lesser nationally or internationally recognized award for excellence.
Membership in associations of the field that demands outstanding achievements of its members.
Published materials about him or her in professional or major trade periodicals or major media.
Original scientific, scholarly, artistic or athletic or business related contributions of major import to the field.
Authorship of scientific, scholarly, artistic, athletic or business-related contributions of major impact in the field.
Authorship of scholarly articles in professional or major trade periodicals or other major media.
Work that has been shown at artistic exhibitions or displays.
Performance of a leading or supporting role in distinguished organizations.
Commanding a high salary or compensation compared to other teachers in the field.
Evidence of commercial success in performing arts.
Form I-140
For purposes of extraordinary ability, outstanding professors and researchers and multinational managers and executives. the employer must complete and submit the Form I-140 Petition for Alien Worker.
Family Members
Once the I-140 petition is approved, the spouse and unmarried family members under the age of 21 are also eligible for admission into the United States.
The contributions to the United States by you and your family are extremely valuable to the people of our nation. We'll be pleased to have you here. Contact Maison Immigration Lawyers for the highest quality of advice and service.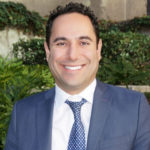 Martin Gasparian is the founder of Maison Law, a California Personal Injury Law Firm. Martin is a graduate of Georgetown University Law School and has been practicing law in California 2004. His practice focuses on helping injury victims know their rights and recover just compensation.