If you or a family member were seriously injured in a car crash in or around Los Angeles, you're likely to be overwhelmed with the claim or lawsuit process. Then, there are the medical bills, vehicle repair bill, lost time from your job, your physical recovery, rehabilitation and of course, the opposing insurance company that you need to deal with too. Your entire claim is going to pivot on who was at fault for the accident, and proving fault can be a tedious process. By retaining Maison Law to represent you in your claim, you'll be represented by an established, effective and aggressive law firm with the proven ability of bringing a persuasive and successful claim or lawsuit on your behalf.
Proving Fault
Before an accident victim can prevail on a claim or lawsuit, it must be shown that the driver who is alleged to be liable for the accident was careless and negligent. Specific elements of damages must be proved, and if a claimant fails to prove any single one of those elements, his or her case fails in its entirety. Here's what must be proved:
The other driver owed a duty of care to the claimant in that he or she had an obligation to drive safely and responsibly.
There was a breach of that duty.
The breach of duty caused the broadside crash.
The crash was the cause of the claimant's injuries and damages.
That the crash was the proximate cause or the direct link between the claimant's injuries and damages and the other driver's act or failure to act
Investigating a Car Accident
It's the position of Maison Law that no stone should remain unturned in the investigation of a car crash. One seemingly innocuous piece of evidence can turn the liability aspect of a case in favor of a claimant. Here are just some of the parts of the liability puzzle that we try to piece together in a car crash case:
The claimant's version of the facts.
The police accident report.
The date and time of the crash along with the weather and traffic conditions.
Statements of any occurrence or post-occurrence witnesses.
Any evidence of alcohol or drug use.
The disposition of any traffic tickets issued to either driver.
Traffic, security or dashcam footage of the crash.
Photos of the scene of the crash and of the damage to the vehicles involved.
The nature and extent of the injuries suffered by the claimant.
Any statements made by the other driver.
Mobile device data, if applicable.
Comparative Fault
If there are allegations that the claimant was partially at fault for the crash, California's law of comparative negligence will apply. A determination will be made as to whether comparative negligence will apply. Then, a determination will be made as to what percentage of fault, if any, will be assigned to the claimant. That percentage will then be deducted from his or her gross award. For example, if the claimant's award was $100,000, and he or she was determined to be 30% at fault for the accident, the award would be reduced to $70,000.
Determining fault for a car accident can be complicated and confusing. After an accident, your job should be reaching maximum medical improvement and returning to work and your daily life as soon as you can. When you retain us at Maison Law to represent you in your car accident personal injury and property damage claim or lawsuit, our job is to prove fault by a thorough investigation of the crash and assemble all evidence supporting the maximum compensation that you deserve for your injuries and damages. Don't delay. The recollections of witnesses can get cloudy, or they could disappear into thin air. Physical evidence can disappear too. We offer free consultations and case reviews, and if you retain us to represent you, no legal fees are owed unless we obtain a settlement or award for you. Our goal is to obtain the maximum settlement or award that you deserve. For more information please visit our website.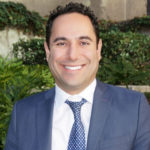 Martin Gasparian is the founder of Maison Law, a California Personal Injury Law Firm. Martin is a graduate of Georgetown University Law School and has been practicing law in California 2004. His practice focuses on helping injury victims know their rights and recover just compensation.