After suffering personal injury damages as a result of the carelessness and negligence of another driver who caused an accident, the victim becomes eligible to seek compensation for them. Those compensatory damages are categorized as economic and non-economic damages. Aside from certain damages in medical malpractice cases, there is no limit on compensatory damages.
Economic Damages
These represent compensation for the amount of money that you lost as a result of the accident. Economic damages are fairly easy to compute within reasonable certainty. A few examples of economic damages caused by a car accident follow:
The emergency room bill, doctor bills, hospitalization bills, surgery bills, costs of rehab and prescriptions.
Future medical expenses if proved within a reasonable degree of medical certainty.
Car repair bill, including your deductible if you use your own collision coverage.
Lost earnings while you were unable to work because of your injuries.
Lost future earnings or earning capacity if one th or the other can be proved within a reasonable degree of economic certainty.
Out-of-pocket expenses.
Non-Economic Damages
These damages are more difficult to compute than economic damages because they are subjective, and there are no price tags on them. When an injury suffered in an auto accident is severe or catastrophic, some of the biggest damages might be non-economic. Here are some examples of non-economic damages that are recognized by California courts pursuant to California Civil Code section 1431.2:
Pain and suffering.
Any permanent disfigurement or disability.
Mental suffering.
Loss of society and companionship.
Loss of enjoyment of life.
Punitive damages if the behavior of the driver who caused the crash was particularly egregious, like if a DUI accident with injuries was caused.
Do You Need a Lawyer to Sue?
California's laws don't give us an equation of the type of formula or any guidance on the total amount to compensate a victim with after an accident. That's where case preparation and skillful negotiating enter the picture. The opposition knows that if you're representing yourself, and if a case is in a trial setting, it's not going to need to pay you much, if anything.  If we're involved in the case from the beginning, that insurer is going to take matters seriously. Here at Maison Law, we prepare every personal injury case in our law firm as if it's going to go to trial. All evidence is collected and organized long before an approaching trial date. That keeps the pressure on the defense.
If you've been in a car accident that was caused by the carelessness and negligence of another driver in or around Los Angeles, contact a Los Angeles car accident lawyer here at Maison Law, and we can arrange for a free consultation and case review. We're going to listen to you carefully, and we'll be pleased to discuss your economic and non-economic damages with you further. Once you retain us to represent you, our objective will be to obtain the highest settlement or award that you deserve.
Contact us at Maison Law for that free consultation and case review right away after being injured by somebody else in any Los Angeles car accident, or visit our page dedicated to auto accidents in LA.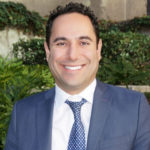 Martin Gasparian is the founder of Maison Law, a California Personal Injury Law Firm. Martin is a graduate of Georgetown University Law School and has been practicing law in California 2004. His practice focuses on helping injury victims know their rights and recover just compensation.